A revised draft law on trafficking in persons proposes the creation of a fund to compensate victims of this crime in Mozambique, in line with the spirit of the Trafficking in Persons Protocol which stipulates procedures to ensure that victims have access to compensation.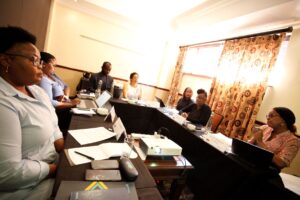 Mozambique is just the latest country seeking to adopt this specification into national legislation. With a population of about 30 million, Mozambique is a country of origin, transit and destination for victims of human trafficking, who are often part of wider mixed migration flows. Tete province, for example, located on the border with Malawi, is a key transit area of the "Southern Route" used by irregular migrants from the Horn of Africa and beyond, trying to reach South Africa. This route is believed to be targeted by human traffickers seeking to recruit or transfer victims of different nationalities.
Mozambican victims, on the other hand, are often detected in Eswatini with which the country shares a 430km border.The desire for people for a better life and more financial stability often makes people prey to manipulation by traffickers. "People in Mozambique believe that South Africa is the Eldorado," said Ms. Amabelia Chuquela, Assistant Attorney-General in Mozambique and coordinator of the National Reference Group on Trafficking in Persons.
The proposed compensation mechanism for victims of trafficking is, according to Ms. Chuquela, an innovation drawn from the experiences of other countries, including Egypt, that provide an emolument to enable victims to re-establish their lives.
This is supported by Article 6, paragraph 6 of the Trafficking in Persons Protocol which obligates state parties to ensure that domestic legal systems include provisions that offer victims of trafficking the possibility of obtaining compensation for damages suffered.
Compensation can be in the form of restitution provisions in criminal law, victim compensation funds supported by the state or civil remedies enabling victims to initiate legal action against an offender in order to obtain damages as a result of the harm suffered.
"It is important that states put in place ways that enable victims to be compensated for the grave harms they have suffered and the lost opportunities as a result of their ordeal," commented Ms. Zoi Sakelliadou, Crime Prevention and Criminal Justice Officer at UNODC. "It is now imperative to ensure that victims have effective access to remedies such as compensation funds."
Among the major advocates for compensation is the UN Special Rapporteur on Trafficking in Persons. However, Ms Sakellioadou said just as important is "making compensation accessible and meaningful."
Thankfully, civil society groups across the world are stepping forward to support victims of trafficking to access compensation and research into the issue of remedies is growing, she said.
In Mozambique the proposal gained ground, thanks to a case that placed human trafficking high up the Government's agenda, leading to a review of the 2008 trafficking in persons legislation.
The case involved the trafficking for sexual exploitation of three Mozambican women, who were promised the opportunity to study and to work in a hair salon in South Africa. Eventually, cooperation between the authorities in Mozambique and South Africa led to the perpetrators being convicted of trafficking for practices similar to slavery and forced labour.
With support from the United Nations Office on Drugs and Crime (UNODC), Mozambique had ratified both the United Nations Trafficking in Persons Protocol and the Migrant Smuggling Protocol in September 2006.
Despite this major achievement, Ms. Chuquela emphasized the complexity inherent in identifying the crime of trafficking in persons as well its victims. "Every day the perpetrators change their modus operandi," she said.
However, Mozambique's internal dynamics also play a role. For example, instability to the north of the country has led to claims of citizens being coerced to join terrorist groups. Traffickers are also alleged to have targeted internally displaced persons. In the same region, a link is often made between trafficking and the removal of organs.
In addition, recent cyclones on the Mozambique coast displaced thousands, rendering them vulnerable to exploitation. This is compounded by a lack of adequate resource for the fight against trafficking in persons and migrant smuggling by criminal justice institutions.
But UNODC has been on hand to assist the Government, including by supporting legislative reforms as well as providing capacity building, along with data collection and analysis.
In parallel, UNODC has supported cooperation between Mozambique and Eswatini. "Due to regular bilateral meetings, cooperation in cross-border anti-trafficking in persons and the smuggling of migrants initiatives are at an advanced stage," said Ms. Jeptum Bargoria, UNODC's coordinator of the EU-funded Southern Africa Migration Management (SAMM) project.
Story by Wilson Johwa, UNODC Southern Africa